ASHRM Celebrates National Patient Safety Awareness Week
National Patient Safety Awareness Week: March 13-19, 2022
The American Society for Health Care Risk Management recognizes National Patient Safety Awareness Week and the role in which patient safety professionals contribute to ASHRM's mission of advancing patient safety, reducing uncertainty and maximizing value.
ASHRM Patient Safety Tip Sheets
Free patient safety resources developed by subject matter experts from ASHRM to be released in mid-February 2022
Patient Safety Awareness Week Activities and Tools
Activities and tools coming soon.
The Patient Safety Certificate Program is designed to assist health care risk management and patient safety professionals apply key patient safety concepts to support improved patient care and outcomes. Participants will review patient safety concepts and learn to effectively apply them to effect positive change in their organization. The certificate program combines an online component with in-person learning. Learn More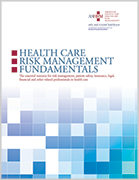 ASHRM Health Care Risk Management Fundamentals is a gateway resource for new and seasoned health care risk management professionals. It will help readers understand the fundamentals of risk management and Enterprise Risk Management and provide insights into the risk associated with all of the moving parts of a health care organization.
This text utilizes the ERM model to illuminate the fundamental domains of health care risk management including Clinical Risk Management and Patient Safety, the Legal and Regulatory Environment, Claims and Litigation and Risk Financing. Purchase Now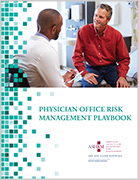 Get the resources you need to manage risk in physician office practices. This playbook is your go-to reference for tools and references on risk management issues including follow up of test results, missed appointments, medical records, patient communication, scope of practice issues, patient termination and much more. Purchase Now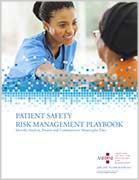 Gain the knowledge to promote an enterprise risk management program that enhances patient safety and demonstrates added value with ASHRM's Patient Safety Playbook. The book will help you become a more knowledgeable and confident health care risk manager through the use of data and metrics, an approach that supports patient safety and risk reduction programs and initiatives. Purchase Now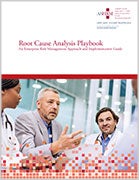 The ASHRM Root Cause Analysis Playbook is an invaluable resource for when harmful patient safety events happen in your health care facility. This Playbook gives risk managers of all experience levels an industry-proven template for responding to these sentinel events, with a clearly-framed step-by-step approach to RCA. This book also contains all of the leading RCA tools in one place, from fault trees to approximate cause analysis, as well as guidance on how to choose the right response team and ask the right interview questions. Purchase Now