Journal of Health Care Risk Management - ASHRM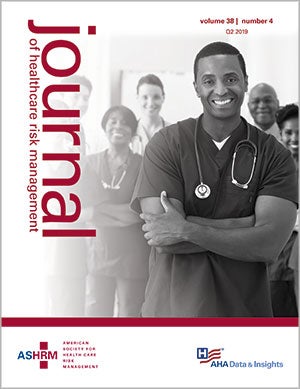 Download the latest edition of our quarterly Journal and stay ahead of the field with the industry's latest in-depth studies, important trends and upcoming developments in health care risk management.
The Journal publishes research, trends, and new developments in the field of health care risk management with the ultimate goal of advancing safe and trusted patient-centered health care delivery and promoting proactive and innovative management of organization-wide risk. The journal focuses on insightful, peer-reviewed content that relates to patient safety, emergency preparedness, insurance, legal, leadership, and other timely health care risk management issues.
Members Only
Journal
Free Sample Journal – No sign in required
Submit an Article
Non-Member Subscriptions
Advertise in the Journal
Journal Author Guidelines (PDF)
Reprint Requests
Wiley Online Library
White papers & Resources
White papers
ARC Toolkit
Work Place Violence Toollkit
Join ASHRM
Join ASHRM today and receive access to the Journal of Healthcare Risk Management, online member directory, ASHRM listserv and other member benefits.
Help
For assistance with registering or logging into the web site or accessing the Journal, contact ASHRM at ASHRM@aha.org or 312-422-3980.