ASHRM Sponsorship Opportunities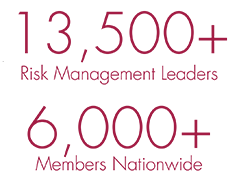 Engage health care risk managers with these advertising and sponsorship opportunities
The American Society for Health Care Risk Management is an association of more than 6,000 educated and influential decision-makers in health care risk management and health care-related professional services.
ASHRM offers numerous opportunities for industry partners to reach health care risk managers, from education and conference sponsorship to ASHRM year-round advertising.
ASHRM Members and Outreach
ASHRM communications reach more than 13,500 ASHRM members and health care risk managers in the United States.
Year-Round Opportunities
Journal of Healthcare Risk Management
Website Opportunities
Newsletter and Email Opportunities
Targeted Emails to ASHRM Members
Webinar Opportunities
Content Marketing Packages
Download ASHRM Year-Round Sponsorship Opportunities.
Contact Nick Schuette nschuette@smithbucklin.com (312) 673-4974.
ASHRM Academy
Annual Spring Education and Networking Event, Intimate setting
ASHRM Academy is an intensive four-day program for health care risk management professionals to build their expertise and work on credentials such as the HRM Certificate and the CPHRM. Nearly 200 leaders in health care risk management attend this program each year. The programs are led by experienced leaders in the profession and are intended for learners at the foundational, practitioner and advanced levels.
All ASHRM Academy sponsors have an opportunity to connect with potential clients in an intimate educational setting.
More information about ASHRM Academy.
ASHRM Annual Conference & Exhibition
Annual Fall Education and Networking Event, ASHRM's Largest Annual Event
Exhibit
Showcase your products and services at the largest annual conference in health care risk management. More than 2,000 highly-engaged professionals at all levels attend the ASHRM Annual Conference each year. By exhibiting, you will connect with decision-makers who use the exhibit hall to learn about the tools and resources to help them improve patient safety, protect assets, manage risk and perform better at their job.
Sponsor
ASHRM offers a variety of sponsorship opportunities to help partners engage conference attendees and build brand recognition. Partners that invest in sponsorships will be recognized in program materials and receive exclusive benefits such as priority points towards future exhibit space.  Custom designed sponsorship packages available. Design an experience attendees will not forget.
Reserve a booth or become a sponsor by contacting Nick Schuette at nschuette@smithbucklin.com or 312-673-4974.
More information about ASHRM Annual Conference
HRM Week
Annual Spring Recognition Event
Become the exclusive sponsor of HRM Week, the American Society for Health Care Risk Management's annual campaign to raise awareness of the important roles of risk management and patient safety professionals in ensuring patients receive safe and trusted health care. 
By becoming the sole sponsor of HRM week, you will have many great opportunities to present your brand to health care risk managers such as listing on all HRM week promotions, logo placements and more.
Contact Nick Schuette at nschuette@smithbucklin.com or 312-673-4974.