ASHRM Behavioral Health Care in the Ambulatory Care/Outpatient Setting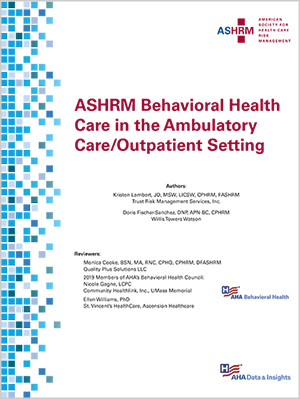 Patients with behavioral health disorders are being treated in every segment of health care, including on an outpatient basis. An evolution in how patients with behavioral health disorders are managed is occurring – there are newer models of care such as collaborative/integrated care, telebehavioral health, and the use of technology in treatment including mobile applications.
This whitepaper includes important tools, such as a checklist for treating behavioral health patients in the ambulatory care/outpatient setting; and resources to utilize within the primary care and ambulatory care setting.