Health Care Risk Financing Certificate Program - Virtual Course

The Virtual learning version of the Health Care Risk Financing Certificate Program offers weekly calls with instructors and self-guided activities
ASHRM Academy Virtual Learning Course - May 2021
Understanding the basics of risk financing allows the risk manager to tie clinical efforts directly to the financial ramifications. This certificate program will help risk managers learn key risk financing information and techniques, as well as how to better assess their own programs. From reviewing loss runs to understanding actuarial reports, an educated risk manager can engage their c/suite by talking about the financial implications of the risk management program to the organization.
We will start by looking at insurance policies and end by 'running' a captive – illustrating how the options of risk financing parallel the organization's philosophy on risk identification, mitigation and resolution. Each participant will leave with practical tools to use in their daily work.
ASHRM Academy 2021 Program Timeline
| | | |
| --- | --- | --- |
| April 13 | Registration closes for the May Virtual Course | |
| April 14 | Attendees will receive LMS access notification | |
| April 21 | All pre-work to be completed | |
| May 5 | All Week 1 activities to be completed by | 60 mins call with faculty at 12pm CT |
| May 12 | All Week 2 activities to be completed by | 60 mins call with faculty at 12pm CT |
| May 19 | All Week 3 activities to be completed by | 60 mins call with faculty at 12pm CT |
| May 26 | All Week 4 activities to be completed by | 60 mins call with faculty at 12pm CT |
High-Level Subject Topic Outline
Pre-Work Topics:
Introductions
Assigned readings
Week 1 Topics:
Risk financing terms
History of insurance development and trends
Actuarial introduction
Week 2 Topics:
Introducing loss runs
Med mal claims on actuarial analysis
Development Patterns, Creating Loss Development Triangles for loss runs
Week 3 Topics:
Indemnification clause implications
Discuss how coverage affects actuarial review and vice versa
Introduce 'Occupied Bed Equivalent' concept and application - Losses, Bed Equivalent Exposures
Modification (mod) factors- Experience Mod Factor Calculation
Captive board meeting
Week 4 Topics:
'Large loss scenario' & B/F analysis -Ultimate Loss Methods and Selection, Discounting, Confidence Levels
Review marketing strategies to the carriers
Discuss how a commercial program can evolve into a captive program
Program Details
Format
14 hours of online format
Completion Requirements
You will receive a "Certificate of Completion" upon completion of the following:
Full online attendance during live calls
Completion of all online activities
Completion of evaluation within 2 weeks
Continuing Education Credit Information
ASHRM Credit
This program is approved for 14 contact hours of continuing education credit toward fulfillment of the requirements of ASHRM designations of FASHRM (Fellow) and DFASHRM (Distinguished Fellow), and toward CPHRM renewal – for those who hold the designation at the time of the program.
Continuing Nursing Education (CNE)
American Society for Health Care Risk Management is accredited as a provider of nursing continuing professional development by the American Nurses Credentialing Center's Commission on Accreditation.
This program has been approved for 14 contact hours.
Email ashrmed@aha.org for questions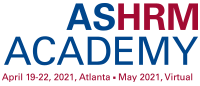 May 2021
Take the Risk Financing Certificate virtual course as part of ASHRM Academy
Learn More