ASHRM 2021 Conference Update
With just a few weeks until the ASHRM Annual Conference begins, I wanted to provide an update on the steps we are taking to support all members during this difficult time for health care leaders.
The ASHRM Annual Conference has always provided outstanding educational sessions, networking opportunities, and Solution Center activities for risk management professionals. This year we are offering two ways to access the conference so that all members can access relevant and timely information.
Some members may not be able to travel, or may feel uncomfortable doing so, in the current environment, which is why ASHRM is offering a virtual conference as well as the in-person event. The virtual conference, held October 25-27, will feature curated educational sessions and a virtual Solution Center.
Other members are looking forward to the in-person conference in San Antonio October 10-13, and are eager to reconnect with peers and share experiences after an incredibly challenging 18 months. The in-person event features educational sessions, networking opportunities, and Solution Center activities, and attendees also get complimentary access to the virtual conference. For in-person conference attendees, we are taking the following safety precautions to help ensure a safe meeting in accordance with CDC guidance and state and local regulations:
All attendees, regardless of vaccination status, will be required to wear masks while indoors.
We will be encouraging social distancing and hand hygiene practices within our conference spaces.
Hotels and meeting facilities in San Antonio have put in place additional cleaning and safety guidelines in accordance with CDC guidelines.
ASHRM works to provide health care risk managers with useful resources, knowledge, and support, and the Annual Conference is a key part of that. We hope you will join us this year in whatever format you prefer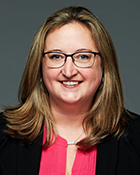 Sincerely,
Deanna Martin, MS, CAE
ASHRM Interim Executive Director