Aon/ASHRM Hospital and Physician Professional Liability 2020 Benchmark Report: A Panel Discussion
ASHRM On-Demand Webinar
Speakers: Kanika Vats, Michelle Dibadj, David Feldman, Robert Hanscom, Richard Henderson, Vicki Missar
Member: FREE
Non-Member: $0.00
ASHRM CE Credit: 1

Domain:Claims & Litigation

Level: Practitioner
Panelists involved in the development of the 2020 Benchmark Study will provide their perspectives on medical malpractice claim costs.
Panelists will provide their perspectives on medical malpractice claim costs. Aon will share key results from its actuarial analysis of claim cost trends and panelists will speak to ways in which healthcare providers can better manage the underlying frequency and severity of claims going forward. Insights gleaned from an analysis of jury verdicts rendered since 2001 that was done by TransRe will be shared and the discussion will include thoughts on reasons behind the growth in "nuclear verdicts" and several possible mechanisms to limit such awards in the future. Aon will show results of an analysis of medical professional liability program structures, and other panelists will share thoughts on the drivers of the current "hard" insurance markets, what health systems can do to navigate the current environment as well as what they can expect in the near term. Aon and The Doctors Company have proposed a telemedicine claim taxonomy for providers which will enable systematic collection and analysis of professional liability claims emanating from this growing healthcare delivery model. They and others will share their experiences on risks that lead to telemedicine related medical malpractice claims and what healthcare facilities can do to limit these risks. Findings from a cause-of-claim analysis pertaining to advanced practice providers that was done by Coverys as well as best practices that health systems can adopt to manage this category of exposure will be discussed also.
Objectives:
• Discuss what hospital and physician professional liability claims cost as well as general liability claim costs have been since 2013
• Identify drivers of medical malpractice jury verdicts, impact of hard insurance markets on medical professional liability program structures, telemedicine and APP related claims
• Determine recommendations on managing the different issues outlined above to manage the medical errors & omissions risk in an optimal manner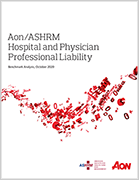 ASHRM/Aon 2020-2021 Hospital and Physician Professional Liability Benchmark Report
Member: $269.00
Non-Member: $369.00
Report provide healthcare systems with a data-based tool for better estimating and understanding self-insured medical malpractice costs relative to those for their peers.
Speaker Bios
Kanika Vats leads the Healthcare actuarial practice for Aon Global Risk Consulting. She has over fifteen years of experience as an actuary and insurance professional in the U.S. and in India. Kanika authors the Aon/ASHRM Hospital and Physician Professional Liability Benchmark Analysis and Aon's Professional /General Liability Benchmark for Long Term Care Providers. Kanika's expertise lies in conducting sophisticated reserving, pricing, cost of risk allocation and other bespoke analyses for corporates, risk retention groups and captives in the healthcare and other sectors. She holds a Bachelor of Arts degree in economics from the University of Delhi, India and an M.B.A. in Finance and Strategy from the Indian Institute of Management, Calcutta, India. She is also a Fellow of the Casualty Actuarial Society and a Member of the American Academy of Actuaries.
Michelle Dibadj, Esq., assumed the position of the Director, Claims and Litigation at Ascension Risk Services in August of 2018. In this role, she is responsible for development, implementation and management of pro-active claims and litigation management programs for Ascension Risk Services. Ms. Dibadj leads a claims team in managing HPL and GL claims and litigation for the health ministries across the country. Prior to joining Ascension in 2010 as Manager of Claims and Litigation, Ms. Dibadj also worked for a large St. Louis health system as a staff attorney in its claims management department. In addition to her claims and insurance experience, she also held positions as a medical liability defense attorney representing healthcare providers and hospitals in Missouri and Southern Illinois. Ms. Dibadj holds a Bachelor's Degree in Nursing from the University of Iowa. She practiced as a registered nurse for six years primarily focusing on Pediatrics. She went on to obtain her Juris Doctorate from Southern Illinois University School of Law in 2002, graduating cum laude. She is a licensed member of the Illinois and Missouri Bar. Michelle has held memberships with ASHRM, SLARM, and DRI. She is currently serving on the Board of Directors for Generate Health.
David L. Feldman, MD MBA CPE FAAPL FACS is Chief Medical Officer of The Doctors Company Group (TDCG), the nation's largest physician-owned medical malpractice insurer, and its strategic business units. Dr. Feldman leads the group's education efforts in and is the primary spokesperson for trends and issues on patient safety and risk management. He is also senior vice-president and chief medical officer at Healthcare Risk Advisors (HRA), (formerly Hospitals Insurance Company and FOJP Service Corporation) a subsidiary of TDCG. Under his leadership HRA provides resources and a collaborative environment designed to minimize claims and lower premiums for HRA clients by preventing patient harm, enhancing teamwork and communication, and improving documentation. Prior to his position at HRA, Dr. Feldman was vice-president for patient safety, vice-president of perioperative services, and vice chairman of the department of surgery at Maimonides Medical Center in Brooklyn, NY. He implemented numerous patient safety initiatives including the use of the WHO surgical checklist. As past-president of the Maimonides medical staff, Dr. Feldman was instrumental in the creation and implementation of a hospital wide Code of Mutual Respect, and physician peer review committee. Dr. Feldman currently serves on the American College of Surgeon's (ACS) steering committee for retraining and retooling of practicing surgeons. He has also served on the ACS committee on perioperative care and as vice chairman of the ACS collaborative task force for the development of high-performance teams in surgery. He also served as the ACS liaison to the AORN recommended practices committee. Dr. Feldman is a master TeamSTEPPS trainer and a certified trainer in Crucial Conversations® and Crucial Confrontations®. Dr. Feldman received a BA and MD from Duke University, completed training in general surgery at The Roosevelt Hospital (now Mount Sinai West), and plastic surgery at Duke University Medical Center. He earned an MBA from New York University.
Robert Hanscom joined Coverys in August 2013 and serves as the vice president of risk management and analytics. He is responsible for oversight of enterprise-wide risk management services, data quality, data governance, comparative benchmarking, and the advancement of analytics to support the business in delivering on its overall strategy. His department serves Coverys insureds with data-driven, proactive risk management expertise, assessments, consultation, content, and insights as to how to effectively prevent patient harm. He earned a Juris Doctor degree from Pepperdine University School of Law and a Bachelor of Arts degree in history from Pacific Union College in California.
Richard Henderson is a Senior Vice President with TransRe. Mr. Henderson has headed TransRe's medical malpractice claims department for the past 20 years and has more than 30 years of medical malpractice claims experience. He is actively involved with TransRe's reinsured's, brokers and Third-Party Administrators in refining their claim handling strategies and in providing meaningful input as to industry trends and claim handling tactics. Mr. Henderson graduated magna cum laude from John Jay College in 1984 and has continued his insurance industry education through completion of the Chartered Property Casualty Underwriter (CPCU), Associate in Claims (AIC), Associate in Underwriting (AU) & Associate in Risk Management (ARM) programs.
Vicki Missar was the keynote speaker at the 2020 National Safe Patient Handling and Mobility Conference and received an award for her poster "Recovery Models for Health Care Workers. Vicki joined the faculty at Harvard School of Public Health in 2014 to present as a Guest Lecturer for the Workplace Work, Health, and Well-Being executive program where she educates students around the world on the the fundamentals of an integrated model. In 2017 she worked as an advisor with the Harvard Chan Center for Work Health and Well-being to support development of implementation guidelines for the SafeWell Integrated Program. As a board member for the ASPH since 2015, Vicki has been promoting worker safety in health care related to mobility, aggressive behavior and repositioning for caregivers. Prior to her work at Aon, Vicki worked for ESIS (2005-2007), ran her own consulting practice called Evolve Inc. (2000-2005), worked for Broadspire Third Party Administrator as a Director in the Field Case Management practice (1997-2000), and Kemper Insurance as their Ergonomics Program Director (1993-1997). Vicki has presented at the International Ergonomics Congress, VA Safe Patient Handling Conference, Association of Safe Patient Handling National Event, American Society of Safety Engineers National Conference, New England Employee Benefits Conference, National Fall Prevention Conference, RIMS, and many others over the past 20 years.