ASHRM Distinguished Service Award
The Distinguished Service Award (DSA) is the highest honor bestowed on an individual by ASHRM. The award may recognize a single achievement or a lifetime of contributions.
2023 Distinguished Service Award Recipient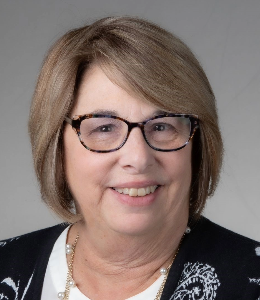 Georgene Saliba, RN, BSN, MBA, FASHRM
Vice President, Insurance, Universal Health Services, Inc.
---
What Do the Recipients Get?
Engraved prestigious crystal award
One complimentary registration to ASHRM's annual conference
Will be honored during the ASHRM in-person annual conference
Submissions for applications are closed.
Past Recipients
2022: Susan Boisvert, BSN, MHSA, CPPS, CPHRM, DFASHRM
2021: Sheila Hagg-Rickert, JD, MHA, MBA, CPCU, DFASHRM
2020: Ann Gaffey, RN, MSN, CPHRM, DFASHRM
2018: Kathleen Shostek, RN, ARM, MBA, DFASHRM, CPHRM, CPPS
2016: Mary Anne Hilliard, Esq., BSN, CPHRM
2015: Andrew Oppenberg, MPH, CPHRM, DFASHRM
2014: Leilani Kicklighter, CPHRM, DFASHRM
2013: Michelle Hoppes, RN, MS, DFASHRM
2011: Sylvia M Brown, RN, JD
2010: Monica Berry, BSN, JD, LLM
2008: Peggy Nakamura, RN, MBA, JD, CPHRM
2007: Pamela L. Popp, MA, JD, DFASHRM
2005: Joyce Benton, RN, MSA, ARM
2004: Geri Amori, PhD, CPHRM, DFASHRM
2003: Robert F. Bunting Jr., PhD, MSA, CPHRM, CPHQ, MT(ASCP), DFASHRM
2001: John C. West, JD, MHA, DFASHRM, CPHRM
2000: Harlan Hammond, MBA, BA, CPHRM, DFASHRM, ARM, HRM
1998: Fay A Rozovsky, JD, MPH, DFASHRM
1997: Roberta Carroll, RN, ARM, MBA, CPCU, CPHQ, LHRM, CPHRM, DFASHRM, HEM
1996: Audrey Vanagunas, MPH, ARM, DFASHRM
1994: Jane J. McCaffrey, MHA, DFASHRM
1993: Ellen L. Barton, JD, CPCU, DFASHRM
1992: Steven L. Salman, MBA, JD, DFASHRM
1991: R. Stephen Trosty, JD, MHA